Fools Night Out comes from a song by Phil Wiggins | Moon photo courtesy Michael's Photo Gallery.
---
Fool's Night Out : Upcoming Events | Regular Events | Artists | Venues | Reviews | Dance Lessons | Sources & Links
---
Back to Floyd
© Scott Mitchell (8/3/06)
Despite the history of poor weather, Floydfest has been growing. This year was the 5th. I expect the weather back here in the DC area was sweltering. But out in Floyd it was wonderful. Perhaps the curse is broken. The temperature probably didn't get over 85F, the humidity wasn't bad. We has a bit of fireworks in the form of Heat Lightning on Friday night, but no rain fell on the fest that night. Saturday did see a brief rain shower. But other than that it was dry. And they were rewarded with record attendance on the Saturday.
I got in on Friday in time to catch Tim O'Brien doing a workshop. Despite being there only one day, he was busy. (And FYI he'll be at Ninigret this year.) He is a talented multi-instrumentalist (guitar, mandolin, fiddle). Later on his band, well, one of his bands, Cornbread Nation played. This trio is with Dirk Powell and Riley Baugus. These guys were busy too, Dirk Powell had his own band as well as Balfa Toujours playing Saturday and Sunday. Riley Baugus teamed up with dancer Ira Bernstein as Appalachian Roots as well as being a member of Dirk's band. There's some serious cross-breeding going on here...
Toubab Krewe, out of Ashville, NC, put on an great set Friday night at the main stage. They play a diverse collection of music, but what grabbed me was the combination of rock with African music... including a couple Koras. They played late night Saturday in what to me was a less satisfying set. They seemed to hit a more droning jam band sound. For those of us not in an altered state, it was rather monotonous.
The last show on the main stage was the Drew Emmitt Band. Drew plays mandolin in a newgrass style. The band put on a really good show. And this festival is almost single handedly turning me on to the newgrass scene... slowly anyways. It wasn't too long into the set when Drew brought out Tim O'Brein who played the rest of the set.
Charivari ended the night at the dance tent. It was a good set. One surprise though, Mitch Reed has departed the band for Beausoleil where he's taken over the bass/2nd fiddle position. Charivari put on a 2nd fun set on Saturday afternoon, though getting the folks with their chairs off the dance floor was an effort that took most of the set.
Donna the Buffalo returned to the festival with an evening set on the main stage. They sounded ok, solid and workman like, but it really didn't inspire. But things got interesting later on. Perhaps you'll recall the band called 'Zydeco Experiment' where DTB backed Preston Frank. Well, the set was billed as Balfa Toujors, but DTB's Jeb Puryear (electric guitar) and Tom Gilbert (Drums) joined in creating what I like to think of as 'Cajun Experiment'. It created a cool gumbo... cajun with a little DTB funk. And one of the cool things at this festival is that through CDOnDemand you can get legit recordings of this and other sets from the festival.
The last set of Saturday night on the main stage was Los Lobos. I like these guys a lot. But sometimes their full electric shows tend toward too much guitar feedback for my tastes. On the contrary, their 'acoustic' show at Strathmore was incredible. This set was really good. It contained a lot of their old favorites, including 'Say Goodnight and Go Home' which many of you know from Geno Delafose's version. They did three Cumbias and a Polka. And there were covers ranging from the Dead, Neil Young, the Rascals, and of course Richie Valens' La Bamba.
Sunday was a bit lower key. I got there in time to catch Rory Block do her solo blues thing. Iris Dement was later doing her solo thing too. It was a pleasant way to end the weekend. In between I checked out a few others: No Speed Limit, a talented young newgrass band of locals and there was a combo of Dirk's band and Balfa playing at the same time. I had hoped to catch a bit of David Bromberg's workshop, but the size of the crowd and the other bands playing kept me away.
As for Floydfest I'll keep going back.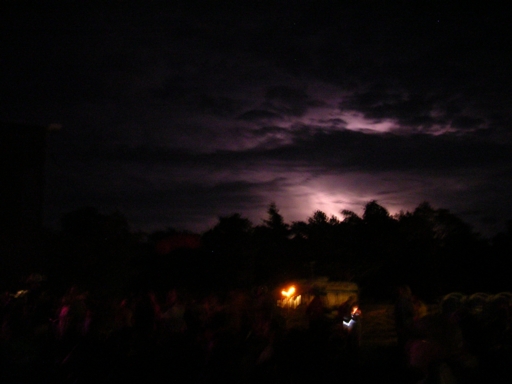 ---
Fool's Night Out : Upcoming Events | Regular Events | Artists | Venues | Reviews | Dance Lessons | Sources & Links
---